Aaron Ramsey, a player of tremendous importance to Arsenal finds himself once again cast into a shadow of negativity by his own fans. This time, the majority of the frustration is aimed at Arsene Wenger, but it's Ramsey, who will take the unneccesary blow on the chin. Is he playing on the wing? Should he be playing on the right? Why is he not in the middle? All cries of exasperation and confusion for some of the fans, but if you look a little deeper at the predicament of Ramsey's position, it becomes clear the term Winger is no longer applicable.
It's fair to say the days of the old fashioned winger, hugging the touchline and crossing on the byeline are long gone. Most prefer to cut inside to try and shoot (Alexis) or go for the one, two's in order to get themselves into the box (Walcott). Aaron Ramsey is neither, nor is he trying to be. Ramsey has been trusted with an important role and it has more to do with the rise of Hector Bellerin then it does covering injuries. The young Spaniard has been chosen to play for his great recovery pace and his speed on the overlap, this means he needs protection, he is also very inexperienced, which means the discipline Ramsey can bring is vital to the security of that right hand side.
The Welshman's selfless role comes at the sacrifice of his offensive influence, however, Ramsey still remains heavily involved in the box to box transitions that tear through the opposition at an excillerating pace. The 23-year-old still has a licence to play at the points of a triangle as Arsenal do so well, interchanging with Cazorla and Ozil like a geometrical romance.
Ramsey's relationship with his own fans has been tumultuous to say the least. The aftermath of his devastating leg break saw a loss of form and confidence which led to the former Welsh Captain losing his way. Early 2013 saw crisis talks with Wenger, the manager imparting his wisdom on his player, telling him to simplify his game and get back to basics, Ramsey finished the campaign with some consistent performances. The 2013/14 season saw the Welsh hero build on this by defining his career as a box to box, goalscoring midfielder. His tenacity and drive endeared him to fans and fired him on to score the winner in the 2014 FA Cup final.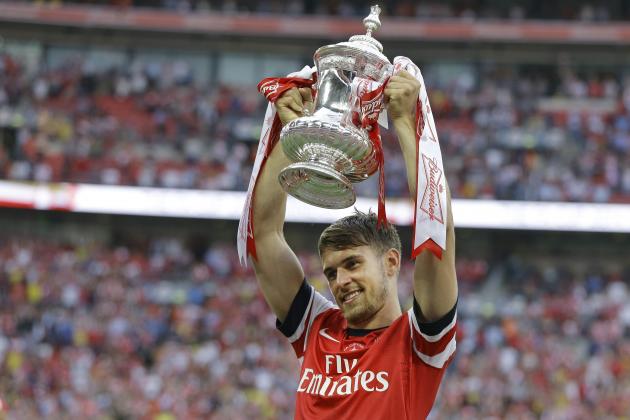 Considering this it's easy to see why fans are frustrated that Ramsey is unable to resume his good form in the middle, but the Midfielder is Wenger's most trusted player, his importance to the team has become paramount no matter what position he plays. One thing for certain is despite public perception, Aaron Ramsey does not play as a right winger for Arsenal, he is much more vital than that.