Arturo Vidal would undoubtedly be the statement signing Arsenal fans have grown accustomed to in the last few years. The rumour was brought to life by South American Journalists. It's difficult to ascertain the truth from fiction, but a link to a player of this quality evokes such excitement. It dares you to dream of the enthralling nature a player like this could bestow.
The sources claim a £21 million, 5-year-deal was agreed with Juventus before the Copa America and will be completed after the tournament is concluded. The last two summer windows Arsenal have flexed their financial muscle to bring Alexis Sanchez and Mesut Ozil to the club. For a long time it was felt this calibre of player was out of the Gunners reach. With the Emirates stadium loan paid off it is clear Arsenal are able to compete with Europe's elite.
In this case, a skeptical view is understandable with modern football the way it is. It's more then plausible the link between Vidal and Arsenal could be a ploy from the player's agent to pressure Juventus to issue a new contract. The aim would be to bring Vidal in line with the worlds best paid. The Old Lady could be in a position where they have to balance the books. This summer they have acquired Sami Khedira, Mario Mandzukic and Paulo Dybala with a possible addition of Steven Jovetic. Their next priority appears to be keeping Paul Pobga for at least another year. With Vidal at 28, they may feel now is the right time to get the maximum resale value.
The next important question: Is he the player Arsenal need? Wenger stated in May he would look for a partner to play and rotate with Coquelin. Vidal can play a number of roles in midfield, but has spent more recent years as a box to box player, sometimes playing in a more advanced role. This doesn't mean he couldn't be defensive for Arsenal. Vidal's versatility would suit Arsenal and offer them a tactical luxury of being able to pick a midfield to negate the opposition. This would, however pose the question of would there be room for Cazorla, Wilshire and Ramsey.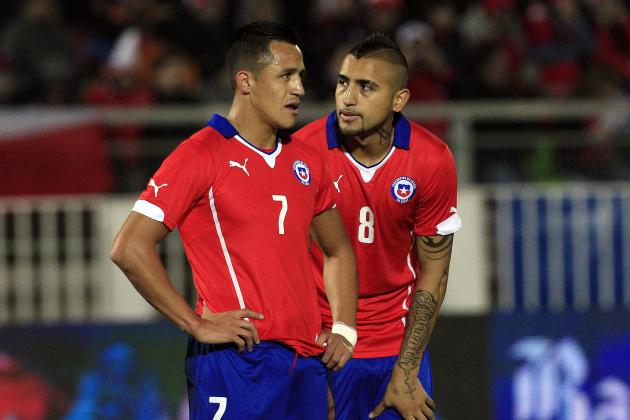 Vidal was brought to Europe by Bayer Leverkuson director and German Legend Rudi Voller. He had seen the Chilean's potential at the U17 World Cup. The all-action Midfielder played four seasons in the Bundesliga and cemented his reputation as an exciting talent, earning a move to Turin. His time in Italy has been hugely successful, winning four Scudetto's. During this period the Chilean International's stock has risen and he is now widely regarded as one of the world's most complete midfielders.
The robust midfielder is no stranger to off-field drama during his time at Juventus. Last year they hit him with a fine after he was seen out on the town the night before a game. Recently, his behaviour has escalated, days before a crucial Copa America match, Vidal crashed his Ferrari whilst under the influence of alcohol. He has lost his licence and will face charges. This could be the final straw for Juventus.
Admittedly, it could be a ploy for new contract or it could be a real opportunity. One only has to look at the Sergio Ramos/Man Utd link to see its common practice in modern day contract negotiations. Alexis Sanchez shares a close friendship with Vidal, he has no doubt told his friend about life in London. They also share a great understanding on the pitch which, if replicated could have a devastating impact on the rest of the Premier League. How Wenger would fit Vidal into Arsenal's team is headache, but a player of this quality is a welcome addition to any team in the world and if the opportunity is genuine, it cannot be passed.